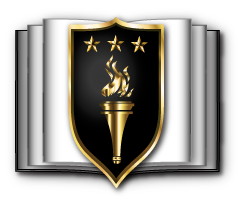 US Army War College
MEL-1 Resident Education Program
Army War College (USAWC) Institutional Learning Outcomes
Graduates of U.S. Army War College programs are intellectually prepared to preserve peace, deter aggression, compete below the threshold of armed conflict, and achieve victory in war -- with a special focus on Landpower. Our graduates are senior leaders, prepared to effectively lead and operate in complex organizations. They --
Think strategically and skillfully develop strategies to achieve national security objectives
Provide strategic context and perspective to inform and advise national-level leaders -- providing sound, nuanced and thoughtful military advice
Apply intellectual rigor and adaptive problem solving to multi-domain and joint warfighting
Lead teams with expert knowledge and collaborate with others to provide innovative solutions to complex, unstructured problems
Exercise moral judgment and promote the values and ethics of the profession of arms
Convey complex information and communicate effectively and persuasively to any audience.
USAWC School of Strategic Landpower (SSL) Program Learning Outcomes
The core competence of our graduates is leadership in the global application of strategic landpower. The curriculum addresses the "great problems of national defense, military science, and responsible command." To accomplish its mission, SSL presents a curriculum designed to produce graduates who are able to:
Evaluate theories of war and strategy in the context of national security decision-making
Analyze, adapt and develop Department of Defense processes, organizations, and capabilities to achieve national security objectives.
Apply strategic and operational art to develop strategies and plans that employ the military instrument of power in pursuit of national policy aims.
Evaluate the nature, concepts, and components of strategic leadership and synthesize their responsible application.
Think critically and creatively in addressing national security issues at the strategic level.
Communicate clearly, persuasively, and candidly.
The Army War College Curricular Model for academic year 2020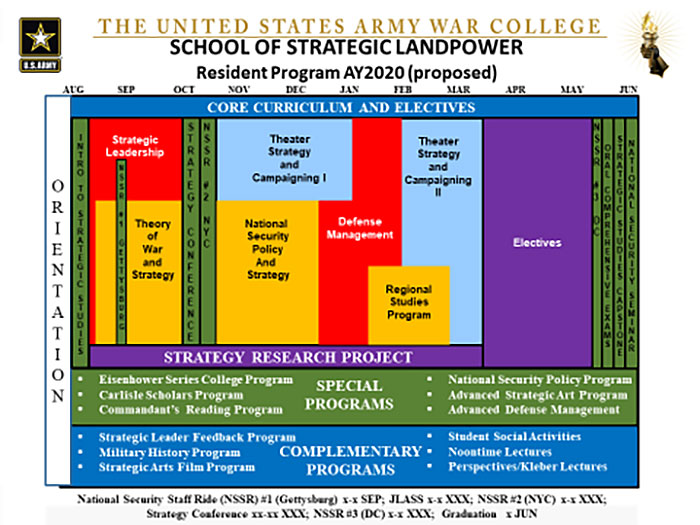 Descriptions: Core courses (all students) and Electives/special programs (student selections)
Core: Introduction to Strategic Studies (ISS) – Familiarizes students with the major themes of the core curriculum within the context of war, as well as with graduate-level critical thinking, research, writing and reading. The course establishes foundational concepts for analyzing conflict from several perspectives such as leadership, policymaking, theater campaign planning and the employment of a nation's instruments of power.
Core: Theory of War and Strategy (TWS) – Emphasizes the theoretical approach to war and strategy. Provides key concepts for analyzing conflict and cooperation among nations as well as the causes and use of war.
Core: Strategic Leadership (SL) – Develops an appreciation for the uniqueness of strategic leadership. Builds on strategic thinking, examines environmental scanning, managing change, culture and the profession, strategic and ethical decision making, and enhances discretionary judgment.
Core: National Security Policy and Strategy (NSPS) – Examines the U.S. governmental process for integrating, balancing, and synchronizing the instruments of national power in promoting and protecting national interests.
Core: Theater Strategy and Campaigning (TSC) – Critically examines the application of joint doctrine in planning and conducting unified and multinational operations. Evaluates service roles, capabilities, and cultures in providing ready forces to the Unified Commanders.
Core: Regional Studies Program (RSP) – Students choose to study US national security issues in relation to one of seven regions (Africa, Middle East, Asia-Pacific, Americas, Europe, Russia-Eurasia, and South Asia).
Core: Defense Management (DM) – Addresses how strategic guidance is employed within Department of Defense systems and processes to develop trained and ready combat forces.
Elective topic: Strategy Research Project – may be completed as an Integrated Research Project as part of a group
Elective: four 2-credit elective courses
Elective: Special Programs apply multiple elective credits to in-depth experience in National Security Policy; Advanced Strategic Art (ASAP); Eisenhower College Series; Joint Warfighting Advanced Studies; Joint Land, Air and Sea Strategic Exercise; and Futures Seminar; among others